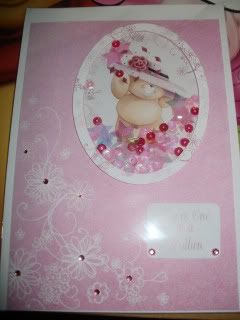 I have to start somewhere and this is my favourite project I have made recently.
I used Forever Friends Pink Parfait papers and decoupage pack here, acetate, self adhesive pink gems and assorted pink sequins.
I first used the image of the flowers on the paper to frame my image for my shaker element. I then took the frame and cut acetate slightly smaller to fit underneath the frame without showing any edges. I attached the acetate to the card frame with thin double sided tape. I then used sticky pads around the bottom of the acetate and frame, all connected so none of the sequins would escape! I put the sequins onto the image and then stuck the frame over it. Then I highlighted the pretty pattern on the paper by sticking gems into the flower centres, and added a 'You're one in a million' greeting and added a couple of gems to it to tie it all in.